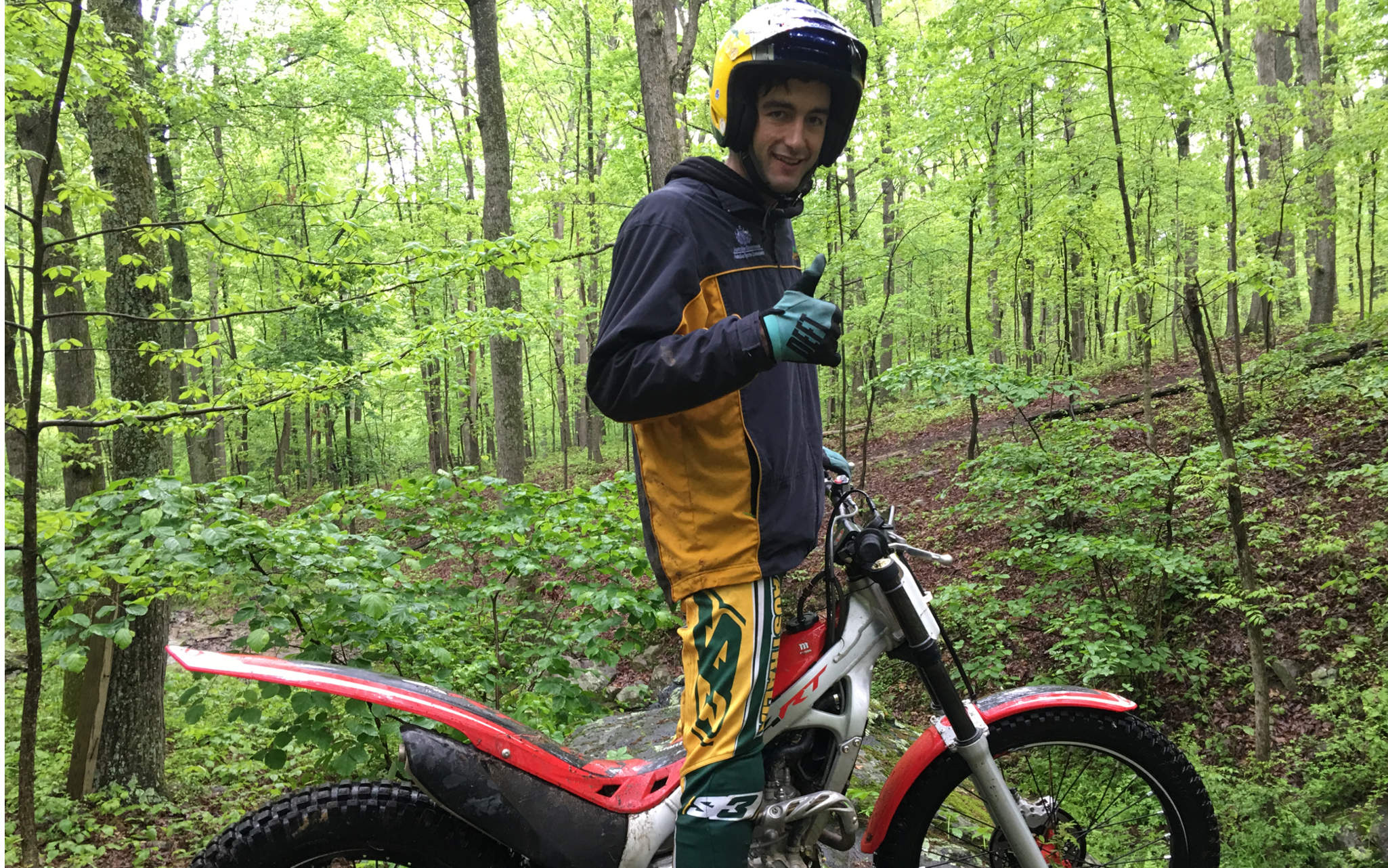 What
to
Expect
from
Offroad
Coaching
with
Tim
Coleman
There are many motorcycle riders out there who have never experienced a ride on a trials bike, let alone lessons to make the experience more valuable and feel like you have achieved new skills. Our property in Glenmaggie is one of the best trials and enduro riding in Australia. Endless amounts of tracks and obstacles to work on throughout the course. Starting off with the basics of bike setup, making sure your handlebars and levers are all adjusted to suit your style. We then fuel up and head down to the gully for a bit of a trail ride to the outer part of the property to get familarised riding a trials bike.
Technics used in the offroad course include the following:
Balance -Balance is definitely a big help progressing in off-road
Clutch control- Learning to smoothly operate the clutch
Brake control- Learning to feather the brakes is very important in off-road
Cornering- Learning to lean the bike over with weight distrubution and knee positioning will allow smoother faster cornering.
These few basic learning techniques are all slow speed riding and not dangerous. You will begin to feel more at home once you have covered a few basic skills.
Once you feel like you're ready to progress we can then go and work on other skills such as; cornering on hills, rocky creek crossings, steep descents, banks and logs. Each session is flexible and tailor made to suit your level of skill and what you want to take away from it. I will teach you what you want to learn! After having some time on the bike will boost your confidence so we can then work on the proper technique of riding obstacles.
Depending on your level of skill you may have already mastered the basic techniques of basic trials and offroad riding. If you are a more experienced rider and want to progress in certain techniques, we will be able to work to your skill level and focus on what you want to learn throughout the day on many different terrain types we have available, from Beginner to Expert we have it covered.
If you want to work on just Enduro techniques we can, I will be able to see your skill level after a basic ride. Clutch control, brake control, and then progress into learning the proper way to ride over logs and obstacles. Many riders are hitting logs with no technique and scraping over with just the help of the throttle, this is fine but if you want to reserve energy and feel more in control with a bit of style then I believe it is important to master the correct way, especially if you are wanting to progress in hard Enduro and Enduro X.
Pivoting the front wheel is a common technique to work on to get you around those hard sections in seconds, with numerous switch back scenarios to get you thinking. After learning a few techniques, we can then work on nose wheelies and wheelies. There are endless amounts of tricks and techniques that can be taught.
If you want to go fast 5th pinned up a road and jump 100 feet then this course is not for you. We emphasise the importance of technique so you can hit the trails with your mates and feel you can get up that hill climb or jump that log without any problems.

Look forward to going riding with you!

Tim Coleman