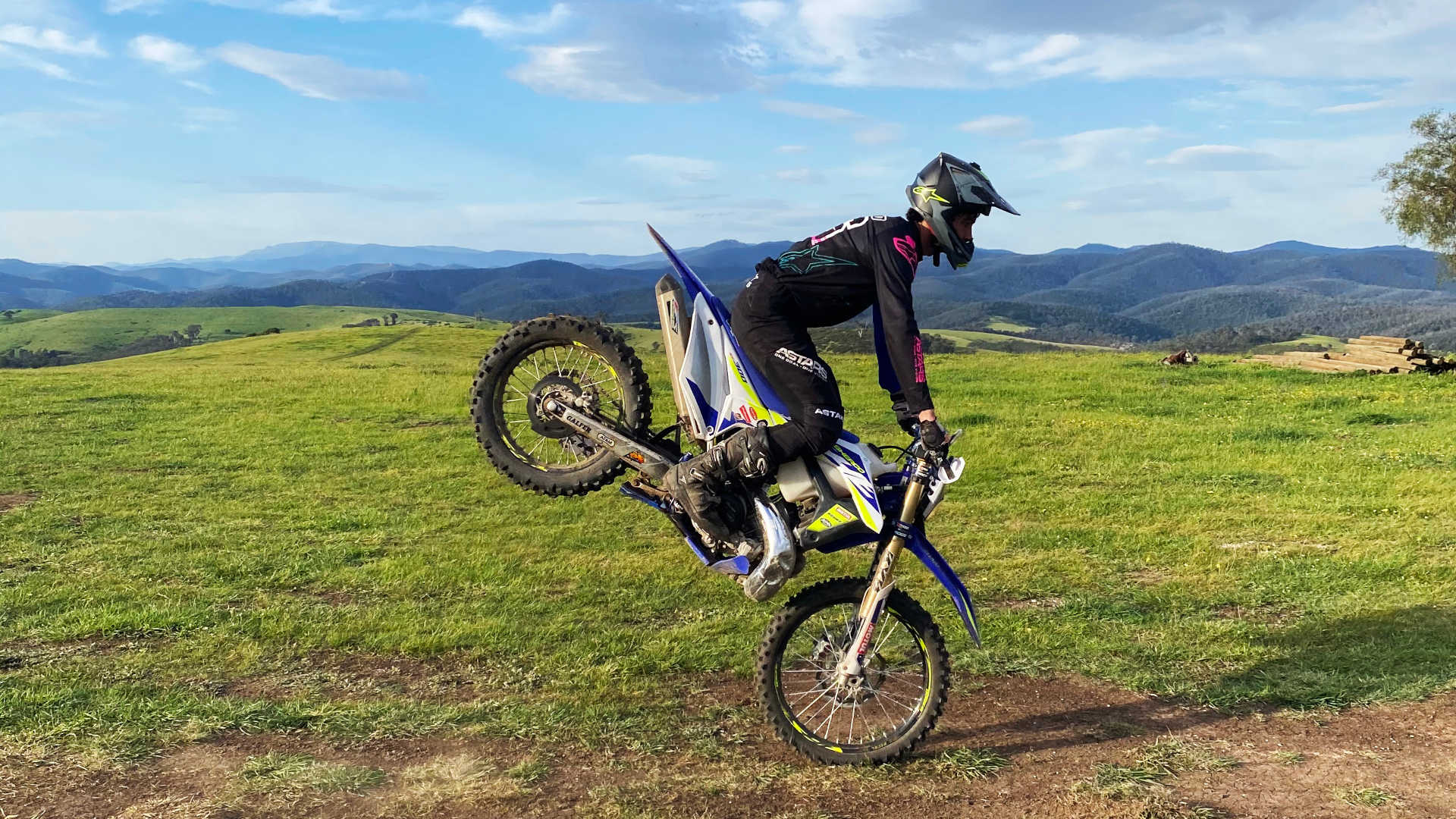 Tim Coleman is a sage in the world of trials and enduro, boasting an impressive 15+ years of experience. And he doesn't stop at that. He still actively participates in trials competitions and enduro races around the world and constantly refines his art of two wheeling in the most gnarly and technical terrains one can possibly ride in. He also coaches students around the world and does motorcycle stunt shows!
Sport
Born in Glenmaggie, a magnificent rural part of Australia, Tim was destined to explore it by becoming a motorcycle rider. He started young when he just turned four years old. His initial choice of two-wheeling was motorcross. He loved it and practiced every day on the farm where he was living. Soon, however, the young motorcyclist discovered the art of mototrials and that led to a total immersion into the sport for the years to come.
Trials gave Tim a chance to discover and conquer a much wider range of obstacles and more gnarly terrain that his birthplace was flourishing with. Being able to hone his trials skills by leveraging all this natural goodness, the young athlete soon started to win one trials event after another. His talent was noticed and Tim Coleman became a member of national Australian team competiting in Trial des Nations.
Challenged by the rest of trials wizards at Trial des Nations six times gave an increddible opportunity to Tim to learn from the best in the sport and to incorporate many tricks into his own riding style. He continued to push his limits by everyday trials practice and by participating in as many trials competition as possible. Victories started to line up. Just in 2015 Coleman claimed Indoor X Trial and Victorian Trial championships.
In 2014 Tim decided to get on an enduro bike only to quickly realize that this type of riding was also very appealing to him. All that wealth of technical skills acquired and polished in his trials career were seamlessly transferred to the new sport. He didn't wait and tested his enduro skills in 2014 Wildwood Extreme Enduro, the toughest enduro race in Australia. The young wiz had to run against such international enduro stars as Graham Jarvis and Ben Hemmingway. Although Tim came fifth, it was a spectacular result for the rider who just discovered this type of competition.
While still actively participating in many trials events and enduro races in Australia, Tim Coleman is also planning to compete in the world toughest extreme enduro challenges, such as Red Bull Romaniacs or Erzbergrodeo.
Motorcycle
Stunt
Shows
In 2013 Tim's talent was recognized by one Hollywood studio when it approached him to do a motorcycle stunt scene in the blockbuster movie The Wolverine. Besides rubbing shoulders and racing motorcycles with Hugh Jackman on set for four weeks, this opportunity opened a door to a new passion for the insanely talented rider, motorcycle stunt shows. After a big succesful shows in Australia, China, Germany and USA Tim is now being booked a year ahead to do motorcycles stunt demonstration around the world.
Riding
Clinics
Competing in mototrials, enduro races, and performing motorcycle stunt shows around the world are not the only things that Tim Coleman is passionate about. The gifted rider is also very generous when sharing his skills and know-how with the rest of motorcyclists who want to learn and to become better in the art of mototrials, enduro racing and adventure biking. Tim hosts trials, enduro and adventure bike riding clinics at Glenmaggie, his family property in Australia.
In May 2016 Tim was also approached by Poisk Adventures, an adventure motorcycling company, to hold his very first North American riding clinics in the beautiful mountainous country of West Virginia and Virginia. The riding clinics were a huge success! Students were very impressed by Tim's superb techical riding skills, but they were even more grateful for his generous, patient and hands-on coaching and teaching.
Freeriding
with
Tim
Coleman
While there are many talented riders and accomplished racers in the world, what makes Tim Coleman unique is his very generous nature of sharing his skills and his riding style, which many seem to define as freeriding. He brings so much fun into the world of riding a dirt bike. His style embodies all the key elements of freeriding: playfulness, creativity, trials techniques and tricks. It's no accident that his company is called Tc Trickz Trials Entertainment, Motorcycle Stunt Show. He lives, breathes and dreams about freeriding. That's what makes him unique and so appealing to so many riders around the world.
Freeriding with Tim Coleman is taking it easy, taking time to learn a technique or a trick. There is no need to be stressed or rushed about it. It's all about playing with the law of physics, body, mind and motorcycle. It's all about having fun. It's all about discovering that creative spirit in and let it flourish, listening to it and allowing it to pick that creative line to tackle. It's about being observant and identifying various obstacles and how to use them to hone riding skills and improve techniques.
That's the secret behind Tim's approach and style. By being playful and flexible a rider develops technical bike skills and a capability to pick lines so that when the time comes he can win races and trials championships. If a rider don't seek any titles, freeriding will make him enjoy his bike and his riding process like never before!
Creativity is interwoven throughout freeriding. This helps to discover obstacles that other riders may not easily see. A little log can be used to learn the rear wheel bounce. A tree stump can be used to improve holding the pressure technique. A huge log can be used to learn a slow pivot turn:
That's no wonder why Tim's videos on Facebook, YouTube and other social websites collected over a million views and their popularity continues to grow every day.