Why
trials
is
the
most
important
form
of
motorcycling
A day in the countryside with hard enduro gun Tim Coleman and a fleet of brand-new Sherco trials bikes can teach you a lot
The discipline of motorcycle trials is extremely niche in comparison to more popular forms of motorcycle sport, but it is a discipline that has had a profound and surprising influence on other forms of two-wheel riding and racing.
Take hard enduro for example. The relatively-new sport, which sees competitors tackle highly-technical and physically-demanding terrain over long distances, has been dominated by former trials riders in recent years. Athletes like Graham Jarvis, Taddy Blazusiak, and Billy Bolt have used skills from their trials backgrounds to rise to the top of the hard enduro crop.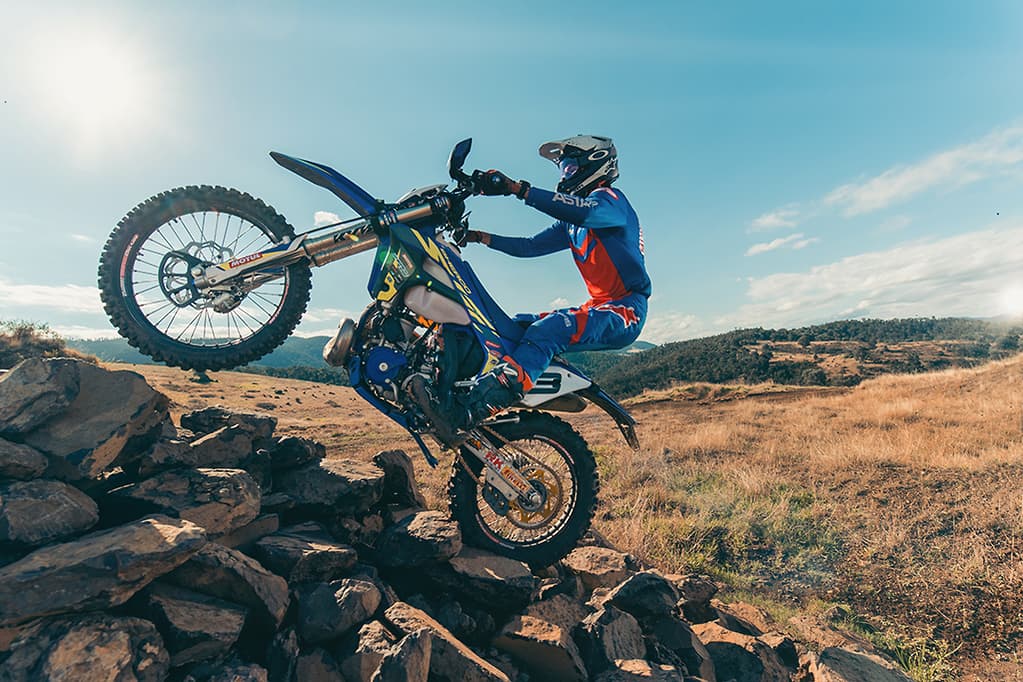 Trials and Hard Enduro go hand-in-hand
But trials can benefit other forms of motorcycle sport too, such as enduro, motocross, and road racing. Even regular everyday road riders can learn a thing or two from trials. The reason is because trials requires a vast array of skills that can be translated into anything with two wheels. These skills include precise throttle and clutch control, body positioning, and balance (just to name a few).
It is not a stretch to say that the skills learned in trials can help lay the foundations for any type of motorcycle rider, regardless of whether they prefer dirt or tarmac.
I have been aware of this philosophy for some time, but I was recently reminded of it at a Sherco trials ride day in the picturesque hills surrounding Lake Glenmaggie in Victoria's Gippsland region. I was invited, along with a few other journalists, to join local trials and hard enduro star Tim Coleman to test out the new Sherco range and get a crash course in how to ride a trials bike.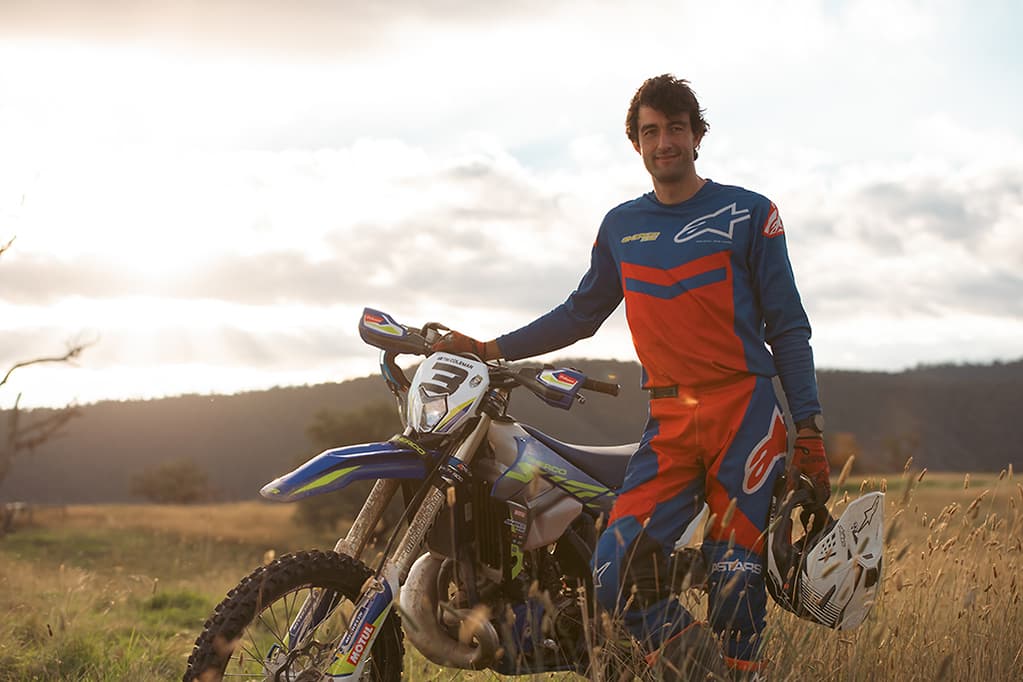 Tim Coleman knows he way around both trials and enduro
Postcards
Arriving at Tim's family farm in Glenmaggie, we were greeted with not only scenery worthy of a postcard, but also a fleet of brand new Sherco trials bikes – two 250 ST Factory models and two 300 ST Factory models. Sadly, the 125 ST Factory wasn't available, but there was still plenty of fun to be had with the bigger bikes.
Also available to ride were two of Sherco's latest enduro bikes – the 250 SE Factory (two-stroke) and the 250 SEF Factory (four-stroke). I'll touch on those later.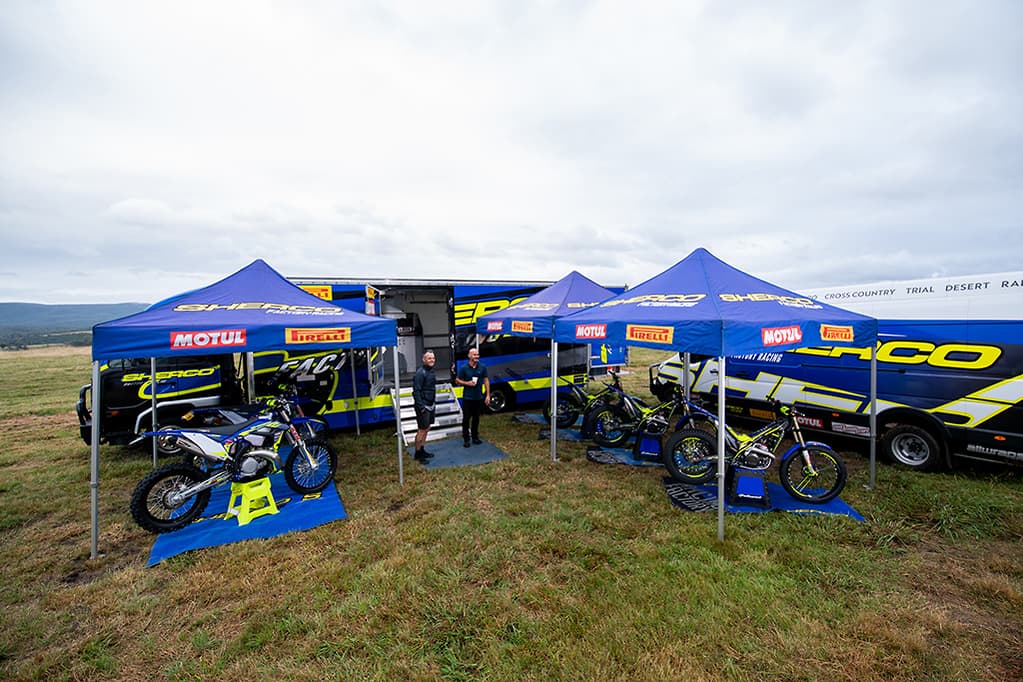 Sherco provided the hardware for the day
With the crew all ready to ride, Tim took us through the basics of riding a trials bike. The most obvious point of difference for a trials bike is the lack of a seat. Trials is all about balancing while standing up on the 'pegs, so there really is no need for a seat.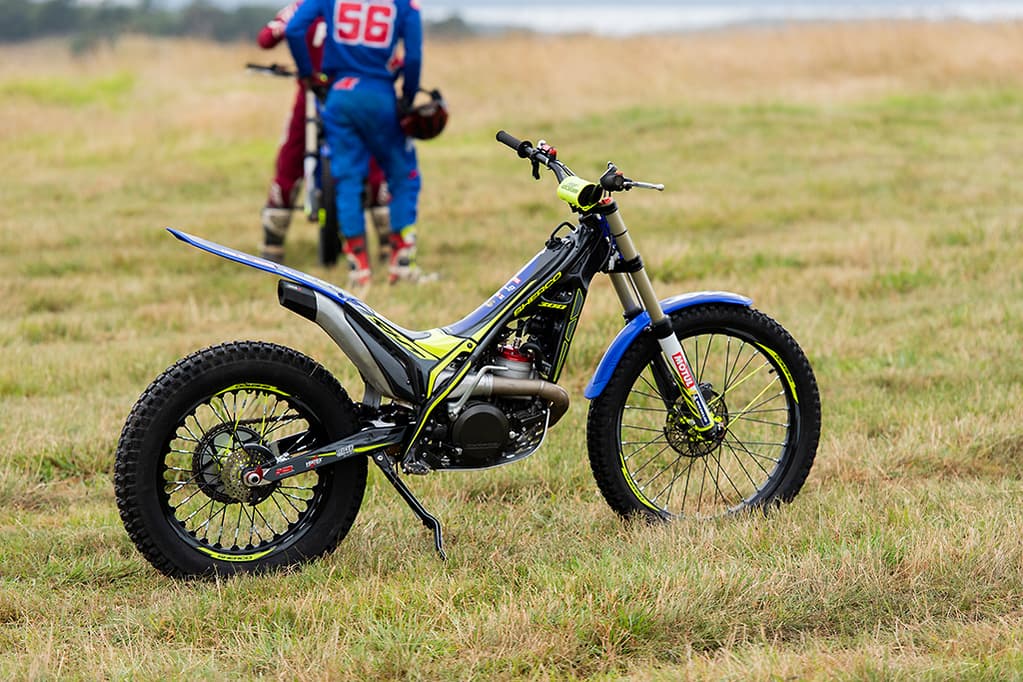 Not your average motorcycle
The first exercise was about static balance. Tim showed us how it's done – standing up and using body position to keep the bike balanced while stationary. Given his long and successful career in trials, he made us all look silly as we tried desperately to keep our feet off the ground.
Next up was to translate those balance techniques into full-lock 360 degree turns, and also a series of slow turns through a straight line of cones.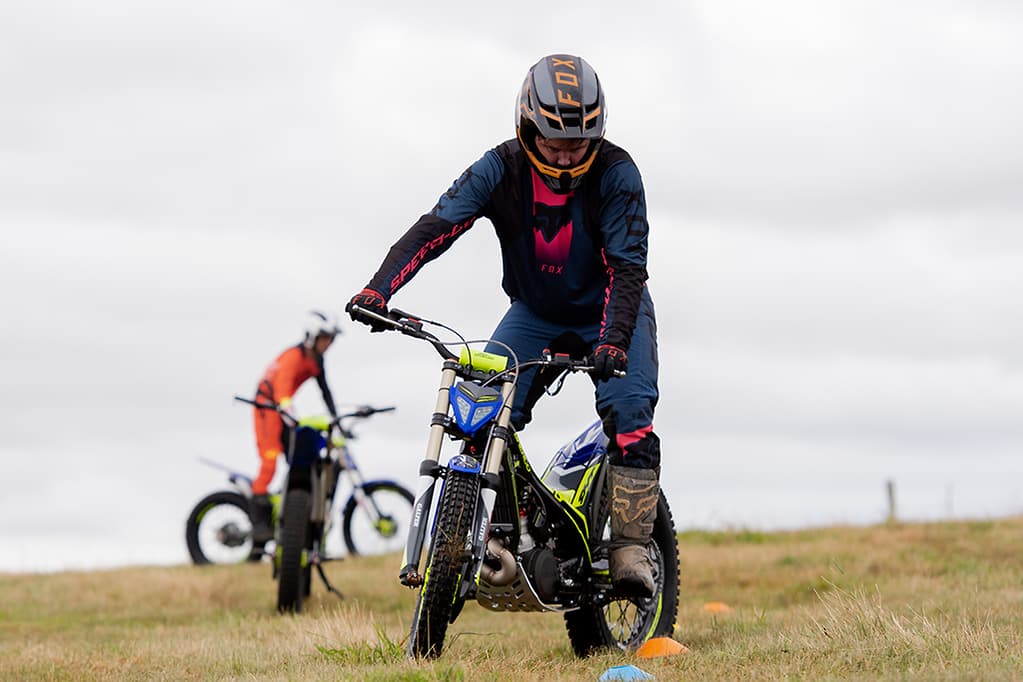 It's harder than it looks...isn't it?
Practice
makes
perfect
That all sounds pretty straightforward, right? Wrong. Despite Tim making it look incredibly easy, these skills take incredible focus and patience for trials novices like myself. They are skills that are used in everyday motorcycling – clutch control, throttle control, balance, slow speed riding are all important for both road and dirt – but it's incredible how much most riders lack in those areas when they are put under the microscope. That is the beauty of trials.
All that said, the improvement comes quickly when you put your attention on those particular skills. Even in the space of 30 minutes, I noticed how much easier the exercises were after some practice. Like they say in the classics: practice makes perfect.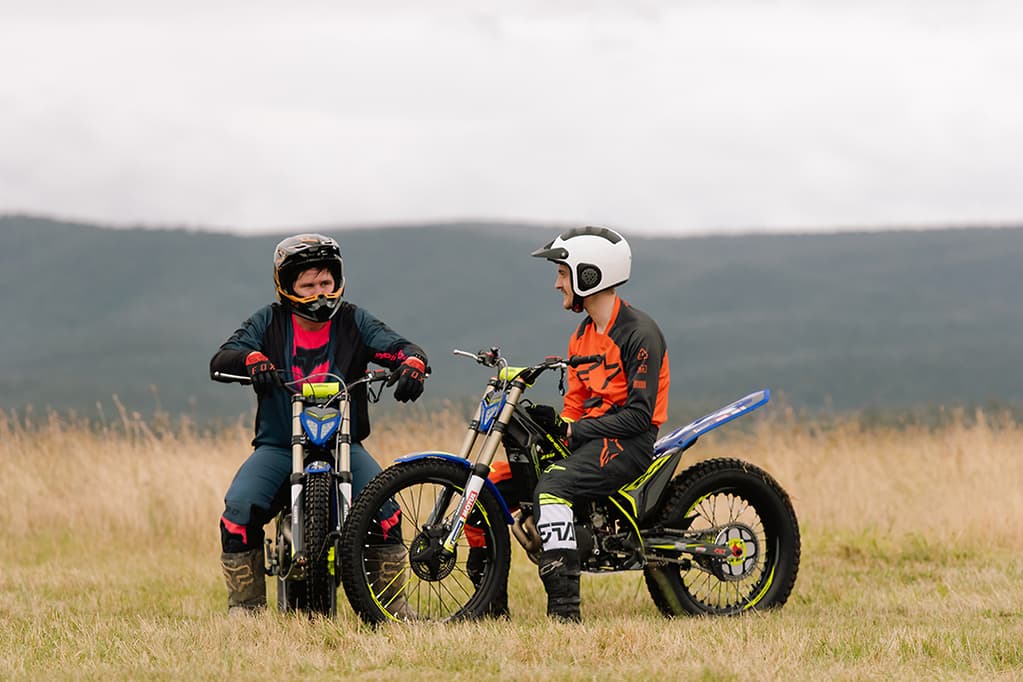 A quick debrief (aka rest)
Of course, we can't forget wheelies – another severely-underrated skill. Whether you're trying to get over a log on a trail, or pop up onto the kerb to park your bike, the wheelie can be a very valuable skill to have. The reality is, however, that many riders don't know how to do wheelies the correct way. You might think you've got it, but there is a good chance you're doing it wrong. Trials to the rescue once again.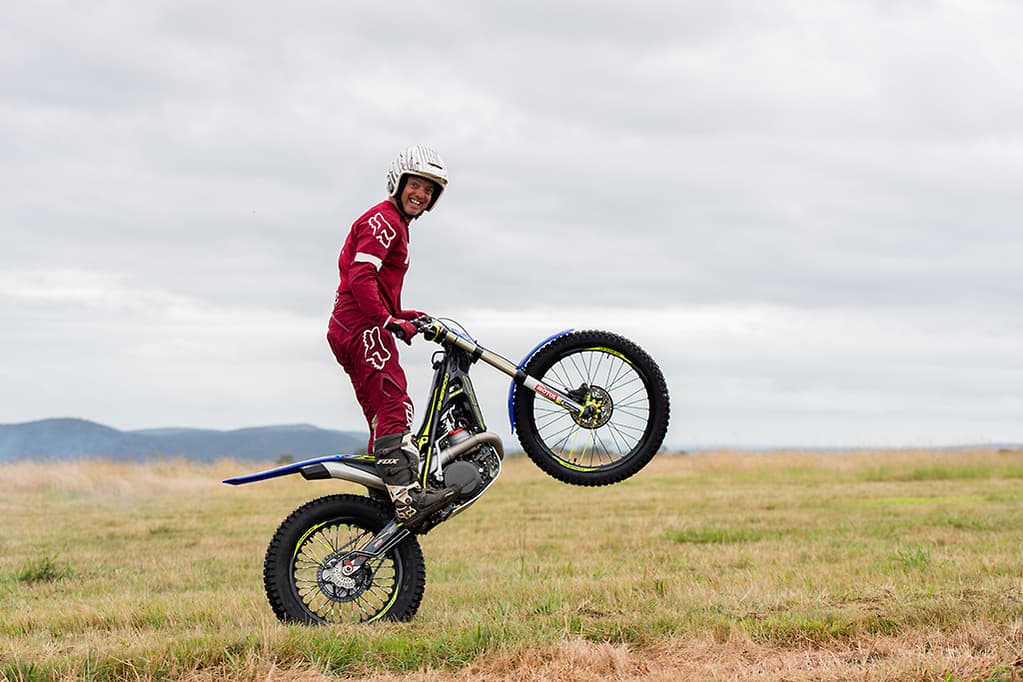 Cam doesn't need any encouragement to pop a wheelie
Run
to
the
hills
By this point in the morning, we were starting to get a little restless. Learning and practicing these skills is great and necessary, but our gaze became increasingly lured towards the rolling hills and pristine bushland of Tim's family property. It was time to hit the trails and stretch the legs of these bikes.
As we descended into the valley below along a rocky track, the nature of the trials bikes started to become more obvious. Apart from the lack of seat, the other noticeable differences is the lightness and agility of the machines, as well as the relatively-quiet two-stroke engine. The powerplant is tuned for low-down, tractable torque, but the fourth and sixth gears are setup so you can still motor around at higher speeds if necessary.
Once you get your head around the geometry and ergonomics of a trials bike, it is amazing how confidence-inspiring they can be. The lack of weight (most trials bikes only weigh around 60-70kg) and perfectly-tuned engines trick you into tackling obstacles you otherwise wouldn't on a full-size enduro bike. Whether it's a rocky creek bed, a tall log, or a gnarly hill climb, you'll find yourself more eager to give it a go.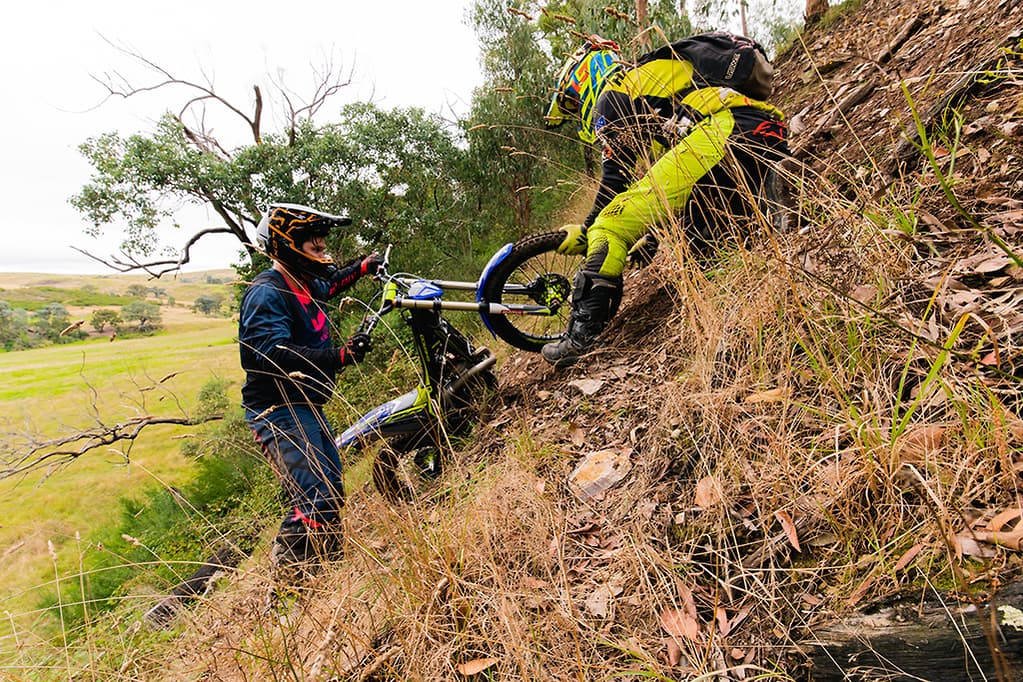 It doesn't always go right
Trials
to
enduro
The amusing part is that these obstacles require the same skills they would on an enduro bike. Naturally, the low weight can be an advantage in some situations, but with the right techniques, you can achieve the same things on a full-size enduro bike without any extra effort. I guess you could say trials bikes are something of a placebo.
This became obvious when we were finally let loose on the 2022 Sherco 250 SEF Factory and the 2022 Sherco 250 SE Factory. As we began to apply our newfound trials skills to enduro and trail riding, everything started to become that little bit easier and make that little bit more sense.
We're not talking about a radical transformation, mind you – rather, it is the little subtle alterations to the way you ride that will add up and raise your overall skill level by a notch or two.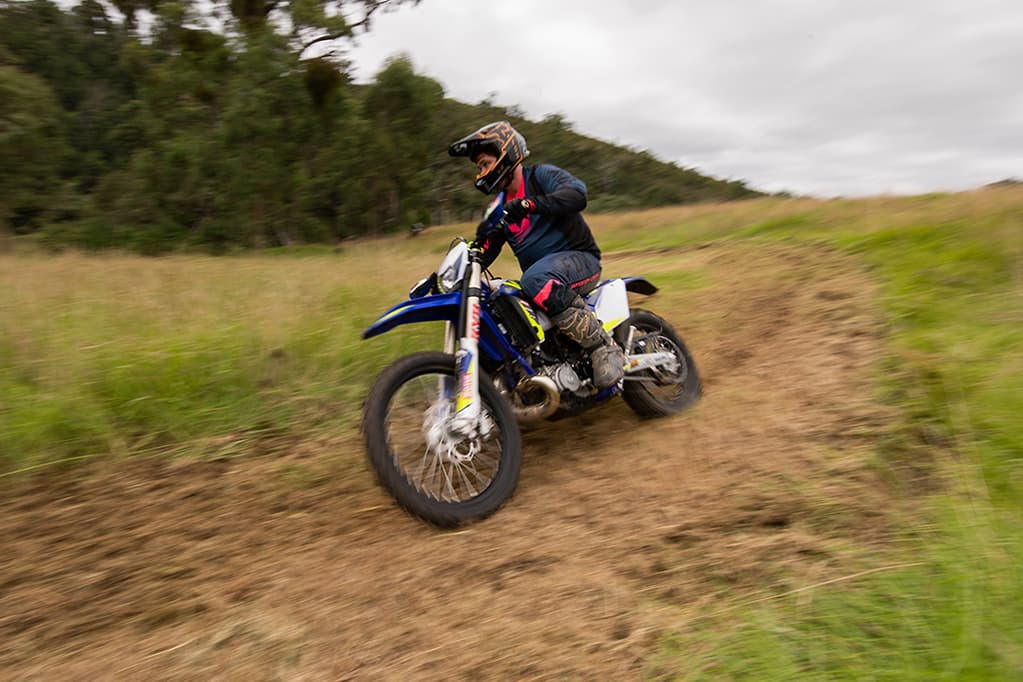 Trials can help your skills on an enduro bike immensely
A
lot
to
learn
But, despite all of this, it was still somewhat of a wake-up call to watch Tim tackle the same obstacles with complete ease. He has a bag of tricks that can get him through just about any situation. From bunny-hopping on a steep climb to get traction to riding along a narrow beam with supreme balance, the gap between the best and the rest is bigger than the Grand Canyon.
And still, as with most outstanding athletes and artists, it is not a matter of natural talent – it is practice, patience and pure dedication to the craft. Tim has been training his whole life with dedication and passion, and the results are obvious. Imagine how much we could improve our riding abilities on both road and dirt with even a quarter of that dedication? We'll never be as good as the professionals (for us adults, at least), but there are always skills to learn and improve on.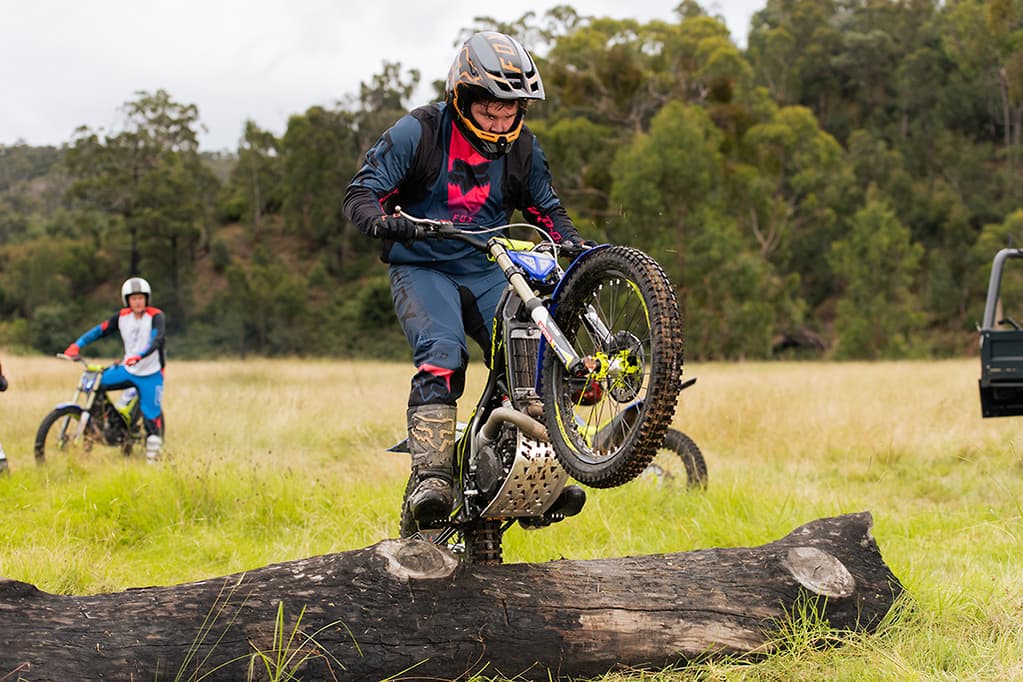 Trials is tricky, but its very valuable and an absolute blast
Whichever way you look at it, the skills used in trials are incredibly valuable for motorcyclists from all walks of life. And that's not to mention that it is also a heap of fun.
But don't take my word for it – go try it for yourself. Get a trials bike in your life. You won't regret it.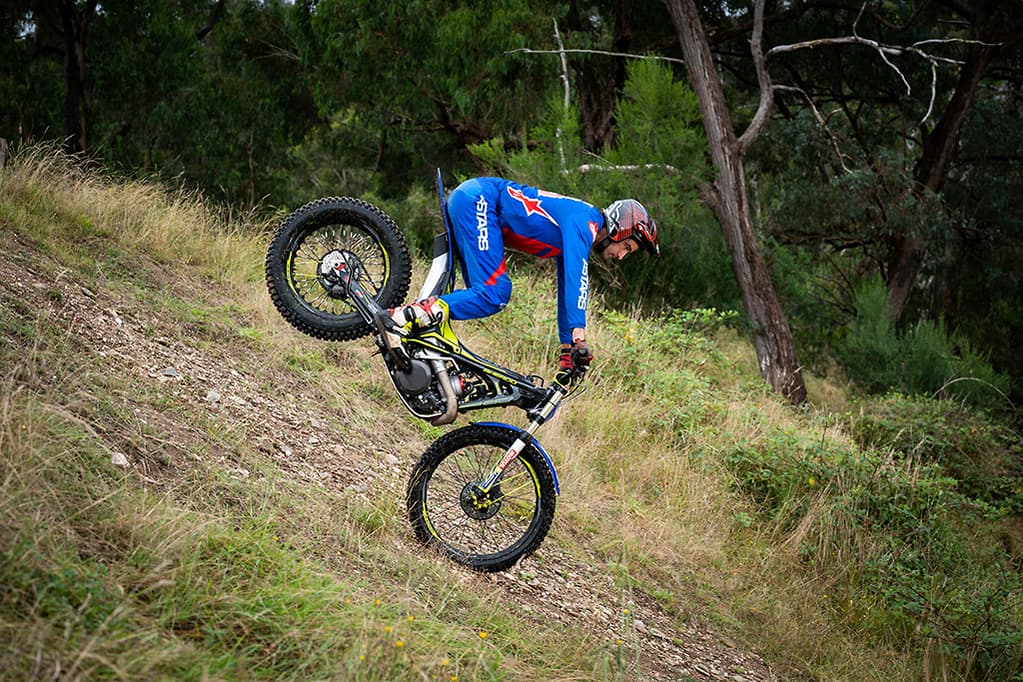 Here's one Tim prepared earlier